Ch Lafitte de Moorstile
chez Shelridge JW
"Heston" (Photo by Lana)
son of Shelridge Sangiovese JW
out of Glad Rags de Moorstile
Born 12th November 2015




BOB Puppy at Birmingham 03.09.2016
BOB Puppy at Richmond 10.09.2016
ResCC, BPDog & BP in Show: 15.10.16. ESSC at Stoneleigh Judge dogs: Mrs Gill Partridge (Rainlor)
BPDog & BP In Show: 29.10.16. MWSSC Ch Show Judge Dogs: Miss Sandra Taylor
Best Dog & Best Of Breed:05.01.17. Boston & District canine Society Judge: Mrs V Winfield
resCC, 1st Mid Limit and 1st Graduate: 12.03.17, Crufts Judge Mrs Bendelow (D) and Mr Mathurst (B)
resCC, 1st Mid Limit and 1st Graduate: 15.04.17, in Wales Judge Mrs I J Roberts
CC Best Dog: 06.05.17. Birmingham Dow Show Society Judge Mr Derek Rigby
CC and BOB and Group 2: 08.07.17. East Of England Judge Mrs I Elder. Group judge Mr D Cavill
CC and BOB and BIS: 14.10.17. ESSC Judge Albert Wight
CC, Best Dog, BOS, resBIS: 28.10.17 MWSSC Ch Show Judge Dogs: Anna Uthorn, Sweden
resCC: 10.03.2018 at Crufts, Judge dogs Mrs M Withers
CC, Best Dog, BOB: Welks Ch Show 27-26-29.04.18 Judge: Mrs L Roberts
CC and RBIS 06.05.2018 at Yorkshire Sheltie Club Ch. show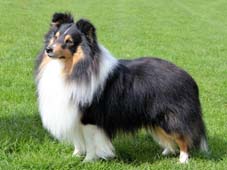 Ch Mistmere Blackthorn at Shelridge JW "Toby"
photo by Sandra Taylor
(Foubeck Funtastic ex Mistmere Lavender Lace)
BestPuppy Dog at Richmond 11.09.10
BestPuppy,Pastoral PG4 Darlington 18.09.10
BestPuppyDog ECSSC Open Show 25.09.10
BestPuppyDog ESSC Ch Show 23.10.10
BestPuppyDog SSCNW Ch 13.11.10
BP BOB JW Luton Open Show 30.12.10
ResCC Southern Counties 05.06.11
Best JrDog East Of England 09.07.11.
Best Dog BOB at East of England Ladies Kennel Society Open Show 31.07.11
ResCC at Bournemouth 14.08.11
ResBestDog at ECSSC Open Show 14.04.12
ResCC at Birmingham 11.05.12
BestDog resBIS ESSC Open Show 02.06.12
CC at Three Counties 09.06.12
ResCC at Windsor 28.06.12
ResCC at Paignton 06.08.12
ResCC at Darlington 15.09.12
CC at South Wales 12.10.12
ResCC at ESSC 13.10.12
CC at SSCNW 09.11.13
This was his crowning CC for the Ch title
CC and resBIS at YSSC 4th May 2014
resCC at MWSSC 25th October 2014
Best Veteran Dog at MWSSC 28.10.17

PEDIGREE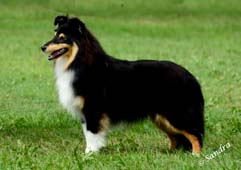 Mastermind at Shelridge JW

"Magnus"


(Ch Casheldor Kingfisher at Morestyle ex
Malaroc Miss Behaving, Toby daughter)
Photo at

Richmond

2014

by

Sandra Taylor

born 09.12.2013

BP Sheltie Leeds 26.07.14, judge Maureen Bywater
BP Sheltie and resBOB 03.08.14 East Of England
Ladies Kennel Society Open show judge Elaine Lawson
BP Sheltie 06.09.14 Richmond Judge B.J.Tunnicliffe
BP Sheltie 13.09.14 Darlington Judge Mrs K Hateley
BP Dog 25.10.14 MWSSC Ch Show Judge Mrs M Withers
BP Dog 16.11.14 ECSSC Ch Show Judge Mrs S Atkins
BP Dog and BPIS 23.11.14 SSCNW Ch Show
Judge Mrs Phyllis Rigby
JW in May 2015
Best Yearling Dog ESSC Ch Show 10.10.15
Won Graduate Dog at Crufts 12.03.2016
Won Graduate Dog at Birmingham 03.09.2016
CAC. CACIB and BOB at Pau International Show, France. Judge: Boris Cavillac. He is is spending a year's holiday with Serena Trillou


Magnus has returned home

10.03.2018
after his year with Serena in France.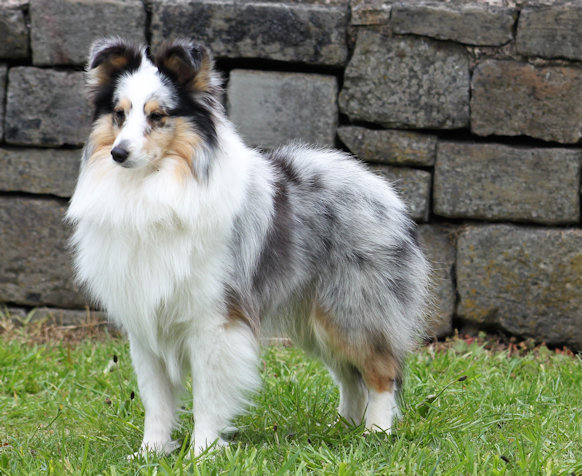 Shelridge Toastmaster "Webster"
(Little Pip de Moorstile ex Shelridge Crushed Velvet)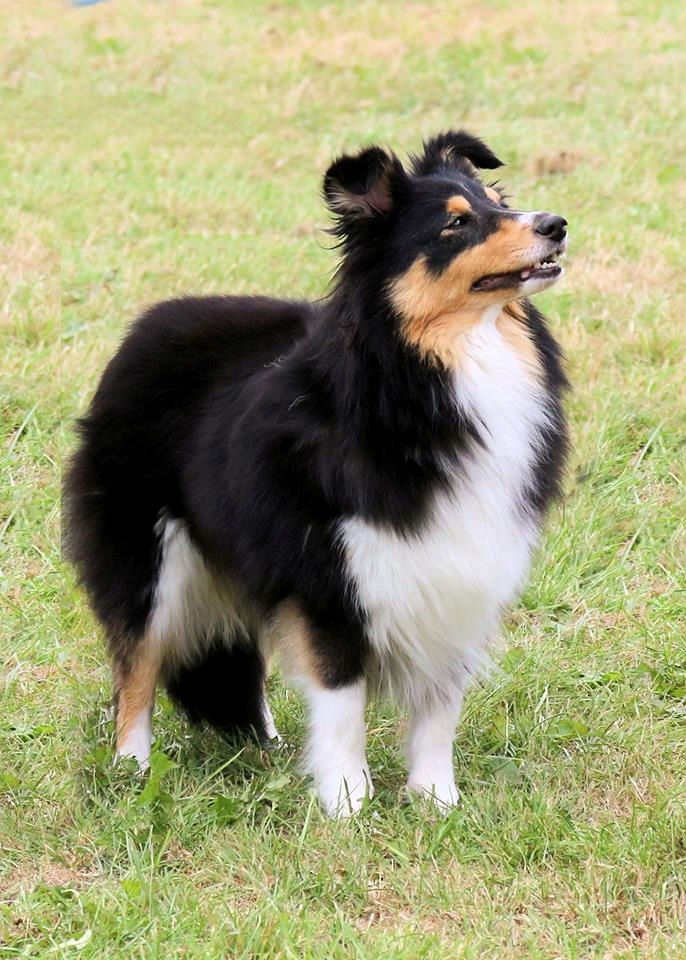 Shelridge Crushed Velvet "Esme"
(Moorstyle Crushed ice ex Malaroc Miss Behaving)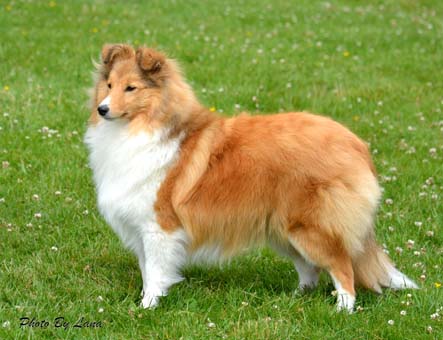 Kyleburn Sibylla "Sibyl"
(Ch Lafitte de Moorstile chez Shelridge ex Aphrodite's Desire for Kyleburn)